TEACHER-IN-YOUR-POCKET~ EXAM WORKBOOKS ~ MATHEMATICS
300 pages of concise, preparatory revision notes.
The Mindset Learn Exam Workbooks contain over 300 pages of concise, preparatory revision notes, exam papers & their solutions. Each question has mark and time allocations for a realistic examination experience to test your knowledge & practice your skills. Use the completed solutions to check your working & answers to make sure you are on the right track. Each Chapter will provide you with an intensive revision program of the official South African CAPS curriculum for Accounting, Mathematics, Life Sciences and Physical Sciences.
The revision material contained in this workbook has been paired with easy-to-access video lessons presented by expert teachers. Each video lesson has been carefully selected from Mindset Learn's television programming & placed at the start of the appropriate chapter in the workbook. To access these lessons simply use a QR Code scanning app of your choice or enter the URLS provided directly into your browser.
BRIGHT EYES Patented
TEACHER-IN-MY-POCKET Digimag

©

Technology

• INSTANT digital device access to Mindset Learn video content with one click
• Over 12000 video lessons
• INSTANT access to Past paper PDF resources across all subject
• Over 1500 past papers
• ONE CLICK, AND YOUR TEACHER'S IN YOUR HOME!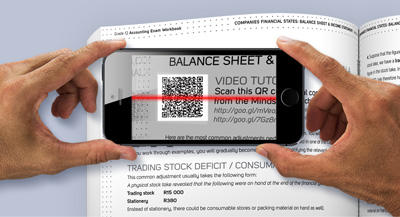 Click below to preview: TEACHER-IN-YOUR-POCKET ~ MATHEMATICS