Welcome to Bright Eyes Publishing

Bright Eyes Publishing (Pty) Ltd was formed in 2015 by Kenny McDonald as a business which concentrated on educational printed material. Bright Eyes is the originator of the "Teacher-­in-­my-­Pocket" range of trans-­medial narrative, or blended learning products, the first of their kind in South Africa.
Bright Eyes is wholly owned by McDonald and, as a start-­up, is realising great traction in retail chains throughout the country. McDonald is also the Managing Director of Safeways Publishing (Pty) Ltd., a company that has been in existence for 20 years generating road safety materials for the retail market. One of Safeways' flagship products, the Official K53 Learner's and Driver's Licence Manual, is consistently one of South Africa's best selling publications and has sold over 2 million copies since it was launched.
BRIGHT EYES Patented
TEACHER-IN-MY-POCKET Digimag

©

Technology

• INSTANT digital device access to Mindset Learn video content with one click
• Over 12000 video lessons
• INSTANT access to Past paper PDF resources across all subject
• Over 1500 past papers
• ONE CLICK, AND YOUR TEACHER'S IN YOUR HOME!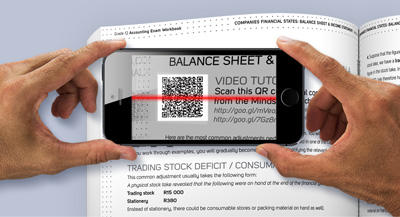 Click below to preview The NEW 144 page Careers Guide 2019


*Please Note

– Preview is only 38 pages of the 144
It was this success in a particular target group that led McDonald to start Bright Eyes Publishing. Apart from the Teacher-­in-­my-­Pocket range, Bright Eyes has just launched the "Complete South African Careers Guide", a publication that was launched in May of this year and is already in over 1850 stores nationwide.
Bright Eyes is also launching its newest book to this impressive stable with the "Do You Want To Pass Matric?", study guide, a comprehensive directory of past exam papers cross-­referenced with corresponding video lessons delivered by McDonald's own patented Digimag™ delivery platform.